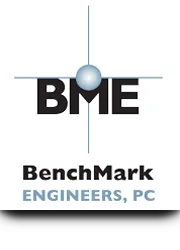 About Benchmark Engineers, PC
BME Consistently Stays Competitive and Humble
BenchMark Engineers, P.C. (BME) is a civil engineering, surveying, and planning firm located in Cheyenne and Fort Collins, Colorado serving local, state and federal governments, developers, and other clients throughout Wyoming, Colorado, and Nebraska.
Experience, knowledge, attention to detail and our commitment to the end results are the fundamentals to the process BME follows in providing professional services. In conjunction with our expertise and experience, fair practice and ethics guide every project we lead. We offer creative approaches to projects without compromising design and safety standards. BME delivers quality in an efficient manner while remaining client-focused at every turn.
Forming partnerships with clients, contractors, government agencies, and public parties is how we create diverse and skilled teams for all of our projects. Our initial objective and end result are parallel: We deliver the utmost quality in an efficient manner, remaining client-focused at every turn.
2019
Increased work from Colorado necessitates an office in-state and BME offices expand to Fort Collins, Colorado The Davis Hospice Center, Civic Center Commons and other BME designs have become local landmarks in Cheyenne.
2016
BME's success in the civil engineering field leads to our company to expanding our personnel and relocating to new larger office space in Cheyenne.
2004
By this time, BME has been honored with several more awards and has begin to accept projects in Colorado.
1997
Scott Larson quickly wins his first design award with BME for a road project, beginning a new tradition and making BME a favorite of City Hall
1996
JNA becomes BenchMark Engineers, PC (BME). Scott D. Larson, PE became president and the company continued to experience a healthy growth and become well established in Cheyenne.
1979
Our company was founded as Jack Noblitt and Associates (JNA). JNA gained a foothold in the Cheyenne market and became a well-known name in the community.
Honesty, Ethics & Integrity
Scott Larson has lived his personal life and his professional life after three basic concepts, which have become the core foundation for all activity at BME–Honesty, Ethics & Integrity. He has built BME around these key principles and never allows any deviation from them. All clients, projects, reviewing agencies, and the public can always expect the employees of BME to provide the facts and honest answers regarding projects, etc. even if it is not what they want or expect to hear. Our approach to our professional ethics that govern our profession is second to none. We will not jeopardize our ethics for the sake of a project and/or client. In addition, we will ALWAYS do the right thing even is it isn't the most popular choice, the easiest choice, the simplest choice or if no one will care/notice. We are steadfast in our principles of Honesty, Ethics & Integrity.
At BME, your potential is limited only by your abilities and ambitions. In consulting with our clients, you will gain the experience to excel in civil engineering and design.
Our vision for employees includes:
Challenging and gratifying project work
Continuous development through training, mentoring, and performance feedback.
Individual recognition for achievement, including compensation and promotion.
A supportive, attractive, flexible, and safe work environment.
While BME has no career openings at this time, we are continually looking for engaged and talented people to become part of our team in as CAD (Computer-Aided Drafting) technicians and Civil Engineers.
"The staff at BenchMark are a pleasure to work with – very personable and professional!"
"BME and Aztec have a strong working relationship with an open door feeling. Their plans are complete, thorough and easy to work from. It is extremely easy to get a quick response from BME and they are always willing to work out questions in the field. Over the last 20 years I have worked with BME on Prairie Wind Elementary School, The Bluffs Subdivision and countless other commercial and residential developments and I look forward to continuing the working relationship into the future."
Cheyenne Address
1920 Thomes Avenue, Suite 200
Cheyenne, WY 82001
Fort Collins Address
155 E. Boardwalk Drive, Suite 400
Fort Collins, CO 80525