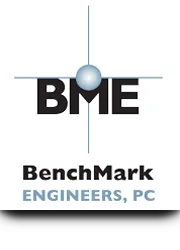 At BME, we know how stressful your next project can feel. With eyes for aesthetics and 40 years experience, we can assist at every stage of the design process, from the topological survey all the way to the final inspection. We can ensure you stand out from the crowd, while seamlessly integrating into the existing infrastructure. You can't put a price on peace of mind, but ours always beat the competition. If you can imagine a project, we can design it.
Quality
Tired of receiving designs that need adjusting?
Commitment
Ever feel like your project isn't a priority?
Personable Staff
Wish your engineers were a bit more friendly?
Ethics
Does anyone care to do things the right way?
Creative Solutions
Want problems foreseen and prevented?
Deadline Orchestration
Can't a project be designed and constructed on time?
Contacts and Partners
Does anyone know whom to call for approval?
Our History
Over the Years
Founded as Jack Noblitt and Associates (JNA) in Cheyenne. Quickly gained a sizable market share and name recognition.
Scott Larson becomes CEO of the renamed BME, by then the top civil engineering firm in the area. He continues the tradition of success & ethics.
1997
Larson wins his first design award
Larson wins his first design award with BME for a road project, beginning a new tradition and making BME a favorite of City Hall.
2004
BME honored with sevarl more awards
By this time, BME had been honored with several more awards and had begun to accept projects in Colorado.
2016
BME relocates into a larger office
BME relocates into a larger office. Notable awards around this time include The Pointe community (project not shown) and Laramie County Library.
2019
CO office opened in Fort Collins
Increased work in CO necessitates an office in state. Davis Hospice Center, Civic Center Commons, and other designs have become local landmarks.
Cheyenne Address
1920 Thomes Avenue, Suite 200
Cheyenne, WY 82001
Fort Collins Address
155 E. Boardwalk Drive, Suite 317
Fort Collins, CO 80525