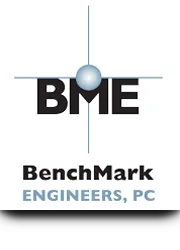 BME Topographic Surveying
Topographic surveyors gather data about land elevation points which are then illustrated as contour lines on a plot. They measure horizontal distances as well as differences in elevation and direction. The survey plan establishes vertical and horizontal control and any difference in elevation or slope distance. Survey data is collected regarding the natural features of the land as well as any man-made modifications. This information is mandatory for contractors and home builders or anyone in construction planning to build in a particular area. You may have seen survey technicians working on the road as you drive by and notice a person looking through an instrument on a tripod. These surveyors are highly skilled individuals with many years of experience and advanced training. BenchMark Engineers has the best reputation for quality topographic surveying to help private and public property owners planning to build on their land. Our skilled survey field technicians will complete a two dimensional topographic survey which will clearly illustrate the contours of the land. If there is a stream or brook and any wooded areas, they will be noted on the survey. Existing utility lines, street lights and electrical boxes will be evident on the survey as will any One Call markings and pipelines. After the topographic survey is completed, your technician will review the results and answer any questions. You can be confident that your survey will have all the details you require to complete the job according to specifications.
Wyoming
State Capitol
Both public and private landowners who plan to build require professional topographic surveyors, as do government agencies, mining companies and land development firms. Choosing the right company for land planning and site plan design is a difficult process. Careful research is necessary to find a surveyor with the experience and knowledge to do the job right the first time. Benchmark Engineering provides top quality professional services and is with you every step of the way. We can help you introduce your proposed project to city officials and review any issues that might interfere with the plan. You will work with one project engineer from start to finish, so there will always be clear communication and a quick response. Benchmark utilizes the latest technology and has completed hundreds of projects in Colorado, Wyoming, and beyond. We look forward to welcoming new business and planning your next project.
Topographic Surveying Projects
WY State Capitol – Site Topography
Campbell County Hospital Expansion – Site Topography and Construction
26th Street Storm Sewer – Site Topography
Christensen Rd. – Site Topography
Meadowlark ES – Site Topography
Bagg ES – Site Topography
Avenue C – Site Topography and Construction
Black and Butler – Site Topography and Construction
Davis ES – Site Topography